The lifestyles of students today require more options and versatility in living. Brill offers sensible furniture to accommodate more living space and greater flexibility.
Pulse
Combining function and style with the use of mixed materials in an innovative, collaborative approach to student living. (6 images)
Urban Flats
Clean lines, cool living and a new generation of apartment furniture. Urban Flats resides in the warehouse renovation districts for graduate housing. Exposed brick walls, original wood floors and a place to call your own. (8 images)
Park Place
A traditional option to apartment living. (4 images)
i-trekTM
Introducing i-trek™, the next generation in technology friendly furniture. i-trek™ adapts to any style of furniture and offers intelligent capabilities with the SmartBar innovation. SmartBar allows students the space advantage of moving monitors, books or even speakers up off the desk and also hides wires through its wire management.  (9 images)
Learn more about i-trek here »
LifeSpace
A modular supported system that allows multiple configurations without the use of tools. (6 images)
View the LifeSpace Product Platform
LifeSpace II
View video introduction »
The next generation of technology friendly modular furniture. (7 images)
View the LifeSpace II Product Platform
Casa
A new solution to apartment style furniture with a simple, sophisticated look. (5 images)
View the Casa Product Platform
Camden
A functional, clean look designed for today's lifestyles. (4 images)
View the Camden Product Platform
Mesa
Furniture designed for apartment style living with form, function and style. (4 images)
View the Mesa Product Platform
FreshSpace
Fresh look. Sensible space. One piece bedends that loft high enough for your desk and chair to fit under or low enough to fit two plus two chests under. Crisp, clean, attractive. FreshSpace. (5 images)
View the FreshSpace Product Platform
Quatro
NEW!
Appealing for its clean lines, with pinless bedends, four spreaders and a clean, architectural appeal with 1-1/8″ tops. (6 images)
View the Quatro Product Platform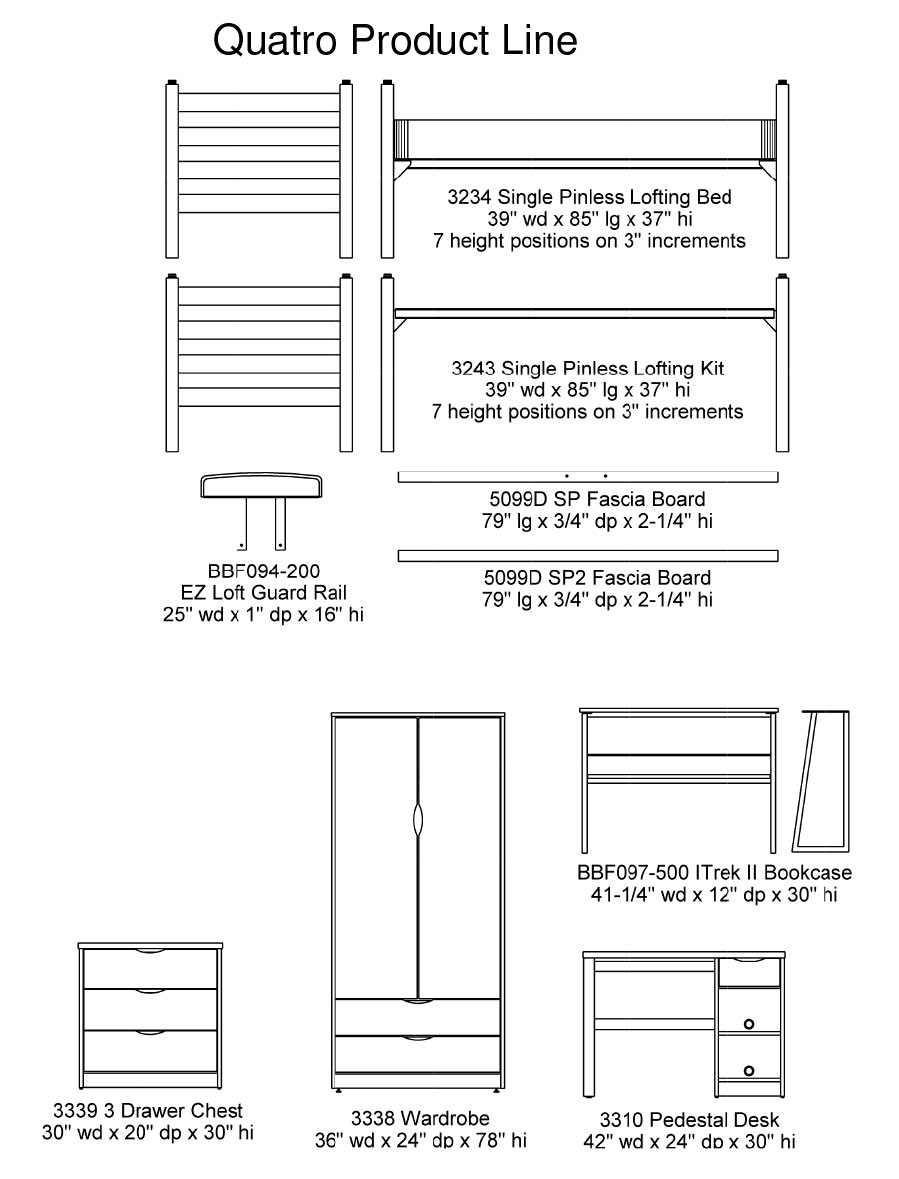 EZ Loft
A collection of flexible, sensible case goods and a loftable bed made of solid Northern grown Red Oak and premium-veneered plywoods. (6 images)
View the EZ Loft Product Platform